SSD HGST Ultrastar SS200 800GB
ENTERPRISE GRADE
Capacity: 800GB
Speed: Solid State Memory
Interface Types: SAS Serial Attached SCSI
Form Factor: 2.5inx15mm SFF Server Drive
Encryption/SED Supported
Sector Size: 512 / 512e
Sustained Throughput: 1800/1000
Average Seek Time: 100μs
Electrical Interface: SAS-3 Serial Attached SCSI v3 – 12.0Gbps
SSD Type: MLC
SSD Endurance DWPD: Enterprise Mixed Use
Mô tả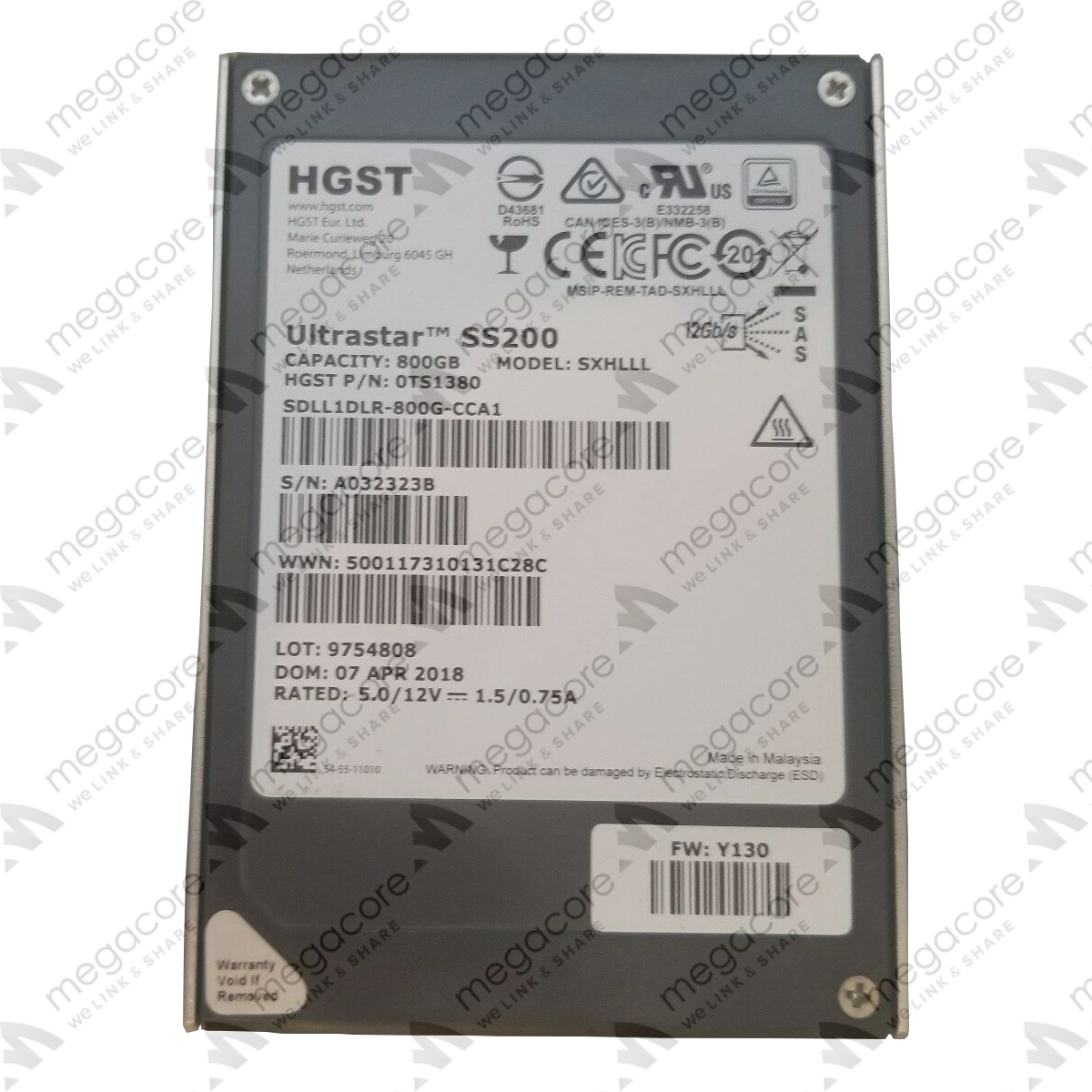 HGST Model#: SDLL1DLR-800G-CDA1
HGST Part#: 0TS1381
SAS Enterprise Solid State Drives
Easily Scale Enterprise Flash Storage with Workload-Optimized SAS SSDs
Leveraging widely deployed SAS storage infrastructure to scale out enterprise flash is critical for budget-conscious data centers trying to keep pace with an ever increasing volume and velocity of data generated daily. The Ultrastar® SS200 solid state drive (SSD) is a 12Gb/s SAS Enterprise SSD from HGST that helps transform hybrid and all-flash data centers by scaling flash storage capacities using workload-optimized solutions to deliver exceptional value.
Data center managers can target performance acceleration of mixed-use application workloads such as Online Transaction Processing (OLTP) or push the capacity envelope on read-intensive workloads like data warehousing and corporate file servers. HGST continues to build on its strong tradition of leading-edge SAS SSD products to deliver more capacity, improved performance and continued emphasis on reliability to enable universal flash adoption in enterprise storage.
HGST Delivers High Capacity, High Performance SAS SSD with Cost-Effectiveness and Data Reliability
Ultrastar SS200 SSDs integrate SanDisk-brand 15nm NAND and the enterprisetested Guardian Technology™ platform to deliver enterprise-grade reliability, endurance and performance. Delivering up to 1,800MB/s and 250,000 4KiB IOPS read performance combined with exceptional write performance, the drive enables valuable application acceleration without compromise. With significantly improved performance consistency and associated Quality of Service (QoS) metrics, this generation of SAS SSDs can help meet stringent enterprise application service level agreements (SLAs).
Available in capacity points from 400GB to 7.68TB, Ultrastar SS200 SSDs also offer a choice of endurance options of either 3 random drive writes per day (DW/D) for mixed-use workloads or 1 random DW/D for read-intensive workloads.
Proven Provider of Enterprise-Grade SSD Products
HGST leverages decades of proven enterprise storage expertise in Serial Attached SCSI (SAS) design, reliability, firmware, customer qualification and system integration to this newest addition to the Ultrastar line-up.
The Ultrastar SS200 SSD is powered by the Guardian Technology™ platform, a comprehensive suite of enterprise features comprised of FlashGuard™, DataGuard™ and EverGuard™ technologies.
FlashGuard technology combines aggregated flash management and advanced signal processing to reliably extract significantly more life from commercial-grade MLC flash for read-intensive application workloads.
DataGuard technology features full data path protection, to help safeguard user data from corruption along all data paths in the SSD.
EverGuard technology helps protect against loss of user data in the event of unexpected power interruptions using a third-generation backup power circuit design and high reliability discrete capacitors.
Highlights
Enterprise-grade 12Gb/s SAS SSD; backward compatible with 6Gb/s SAS
Capacity points: 400GB to 7.68TB in 2.5-inch drive form factor
Maximum read throughput up to 1,800MB/s
Up to 250,000 4KiB IOPS in random reads
Up to 1,000MB/s sequential writes
Endurance of 3 or 1 random drive writes per day (DW/D)
Instant Secure Erase (ISE) & Self-Encrypting Drive (SED) options including TCG Enterprise
Read-intensive Workloads (480GB – 7.68TB)
ERP, CRM, and Data Warehouse
Video Streaming, Video-on-Demand
File Servers
Database Analytics
Features & Benefits
Performance
Feature / Function

Up to 1800MB/s Read & 1000MB/s Write Bandwidth
Up to 250K Read IOPS (4K)

Benefits

Increase application performance and reduce storage system bottlenecks
Capacity and Endurance
Feature / Function

400GB to 7.68TB capacities
Endurance-optimized or Capacity-optimized options

Benefits

Broad portfolio offering that is optimized to offer most value based on workload requirements
Reliability
Feature / Function

UBER of < 1 in 1017
AFR 0.35%
Guardian Technology

Benefits

Enterprise-grade reliability helps reduce service incidents to help lower support costs
Intergration
Feature / Function
Benefits

Wide industry adoption for easy and reliable scale out flash storage
HGST Quality and Reliability
The HGST Ultrastar SS200 SSD extends the company's long-standing tradition of performance and reliability leadership. A balanced combination of new and proven technologies helps enable high reliability and availability to customer data. HGST Ultrastar drives are backed by a 5-year limited warranty and an array of technical support and services, which may include customer and integration assistance. HGST is dedicated to providing a complete portfolio of SSD/HDD solutions to satisfy today's monumental computing needs.
Sản phẩm tương tự