Qlogic QLE2672 Dual Port 16G Fibre Channel HBA
Mô tả
Overview
The 2600 Series adapters are QLogic's sixth generation of Fibre Channel Adapters. They boast industry – leading native Fibre Channel performance – achieving dual port, line-rate, 16-gigabit Fibre Channel
throughput – at extremely low CPU utilization with full hardware offloads. This extreme performance eliminates potential I/O bottlenecks in today's powerful multiprocessor, multicore servers.
In addition, support for powerful virtualization features make this adapter ideal for virtualized environments that need excellent I/O performance to service growing numbers of virtual machines (VMs)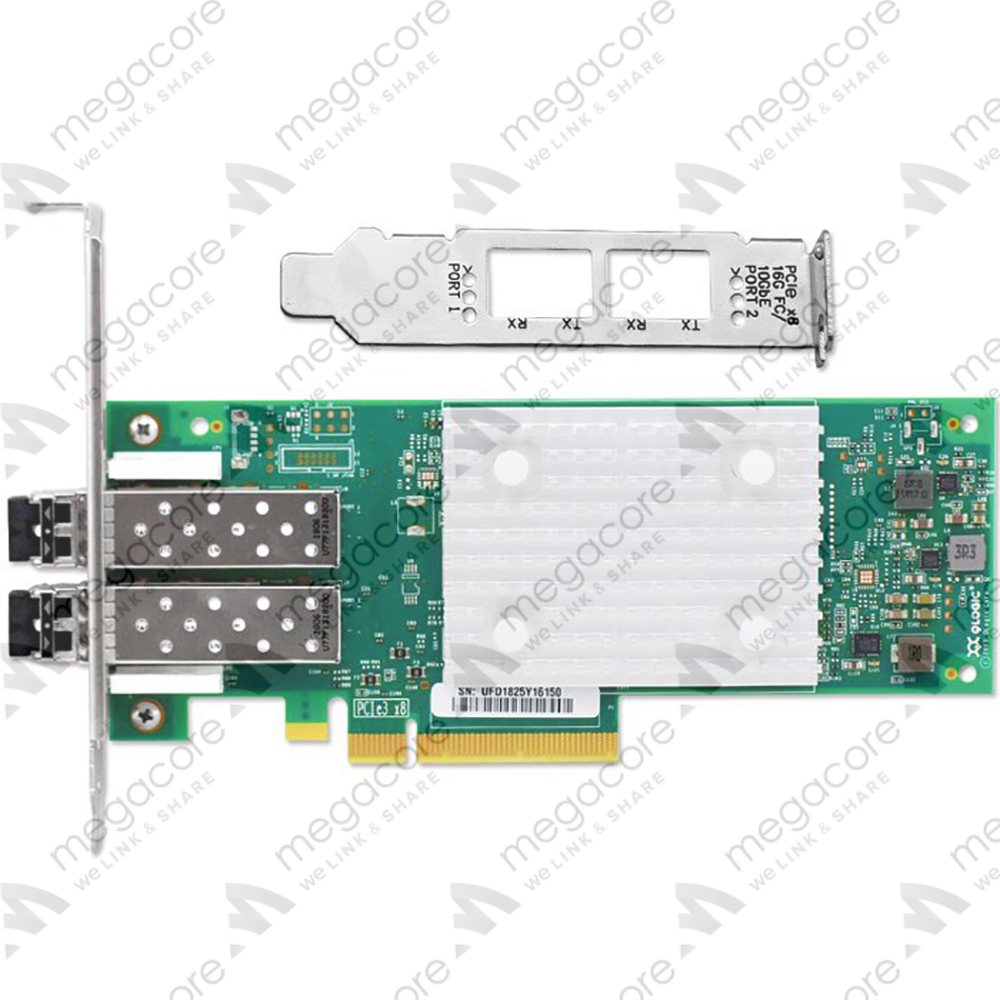 Highlights
16Gbps per port maximum throughput for high
bandwidth storage (SAN) traffic
Decreased power and cooling costs by using the
fewest PCI Express® lanes in PCIe Gen3
environments
Up to 1 million IOPS reduce latency in high transaction
intensive applications and virtualized environments
Overlapping protection domains (OPD) to ensure
a high level of reliability as data moves to and
from the PCI Bus and Fibre Channel network
SR-IOV support for faster performance in virtualized
environments
Complete investment protection for legacy 8Gb
and 4Gb Fibre Channel infrastructure
Reduced hardware, cabling, and management costs
by enabling more applications (virtual machines) to run
on a single server and Fibre Channel port
Virtualization Optimized
The 2600 Series adapters, powered by QLogic VMflex technology™, support standards-based virtualization such as N-port ID virtualization (NPIV) and virtual storage area networks (virtual fabrics). In addition, single root I/O virtualization (SR-IOV) may be enabled to allow enhanced I/O performance in virtualized environments and improved VM scalability for increasing storage workloads.
Superior Applications Performance
The QLogic 2600 Series of 16Gb Fibre Channel adapters consume the lowest CPU to drive storage traffic at line rate across all ports. With support for over 1 million I/O transactions per second, QLogic adapters deliver the best storage application performance in virtualized and non-virtualized environments.
Investment Protection
The adapters are backward compatible with existing 4Gb and 8Gb Fibre Channel infrastructure.
The adapters are also compatible with the same Fibre Channel software driver stack that has been tested and validated across all major hardware platforms, all major Hypervisors and operating systems (OSs), and has been battle-hardened in millions of previous installations.
Fibre Channel Specifications
Throughput
16Gbps full-duplex line rate per port
(maximum)
Logins
Support for 2,048 concurrent logins
and 2,048 active exchanges
Port Virtualization
N_Port ID virtualization (NPIV)
Compliance
SCSI-3 Fibre Channel Protocol (SCSIFCP), Fibre Channel Tape (FC-TAPE) Profile, SCSI Fibre Channel Protocol-2 (FCP-2), Second Generation FC Generic Services (FC-GS-2), Third Generation FC Generic Services (FC-GS-3), FCoE & FIP (FC-BB-5)
Tools and Utilities
Management Tools and Device Utilities
QConvergeConsole: a unified management tool (GUI and CLI) for Fibre Channel/FCoE, iSCSI, and networking
Boot Support
BIOS, UEFI, FCode APIs
SNIAHBAAPI V2, SMI-S
Operating Systems
Microsoft Windows Server®, Red Hat® Linux®, Novell® SLES, VMware ESX®/ESXi, Citrix® XenServer® , Oracle Solaris® Oracle VM, and Oracle Linux
Sản phẩm tương tự